For some people, romance is signified by a candlelit dinner and a bouquet of roses. For others, it's about sexy lingerie and racy reads. Here's a list of jobs that allow you to enjoy a life of year-round romance. Go ahead and spread some love.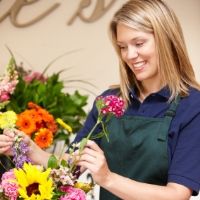 1. Chocolatier
"Not only is chocolate itself sensual, but so is the process of making it," says Tish Boil, editor-in-chief of Chocolatier magazine, a publication for those who make, sell or just love chocolate. "Your body gets into a rhythm as you stir and temper the warm, oozing chocolate and pour it over the soft filling, using precise, gentle movements." According to the National Retail Federation, half of all celebrants (50.5 percent) will buy candy this Valentine's Day. "There's something about giving chocolate that's romantic; it assumes an expectation of intimacy," Boil explains. "After all, it melts in your mouth and intoxicates the senses in a very sensual way."

2. Romance novelist
What could be more romantic than spending your days writing love stories? Romance novelists create characters filled with passionate impulses. "For me, this is the best part of my job: I get to fall in love, again and again, with every new set of characters," says romance novelist Debra Salonen. The profession is not only romantic, but also potentially lucrative: The Romance Writers of America, a national writers association, reports that romance titles generate $1.36 billion in sales each year.

3. Lingerie salesperson
For some couples, nothing says romance more than a silky garment meant only for the boudoir. Lingerie salespeople help customers make the perfect purchase, thereby playing a hand in orchestrating countless amorous trysts. Naturally, lingerie sales spike around Valentine's Day as lovers and would-be-lovers hunt for sexy gifts.

4. Romance expert
L.A. Hunter, a romance expert and the author of "Romeo's Playbook," a romance guide for men, offers tips and relationship advice to people looking to ignite (or reignite) the passion in their relationships. In other words, as Hunter says, her days are spent helping others "spice up their love lives." "I just love romance," Hunter says. "The feeling I get when I feel warm and loved, sexy and wanted, mysterious and playful ... [I want] to have everyone experience these feelings."

5. Florist
Pun intended: Romance blooms in floral shops. From small sweetheart bouquets to elaborate wedding arrangements, flowers are a universal sign of affection. According to the NRF, consumers will spend $1.8 billion on flowers this Valentine's Day. So if you really want to interact with people in the throes of love, it pays to have a green thumb.

6. Wedding planner
What better way to make a career out of romance than by planning weddings? "Being around people in love who are about to make a major commitment to one another is very romantic," says Ali Phillips, professional wedding coordinator and founder of Engaging Events by Ali Inc. in Chicago. While Phillips admits that the wedding planning process -- setting up meetings with bands and caterers, researching design elements and settling the occasional dispute between a bride and her mother -- isn't always romantic, the actual wedding day is inevitably full of many tender moments. "There's nothing better," Phillips says, "than looking at a bride right before she goes down the aisle, telling her to take a deep breath, and puffing the train of her dress."

7. Wedding officiant
If you're swept up by the romance of weddings, but planning isn't your cup of tea, consider becoming a wedding officiant. An officiant performs the ceremony itself, legally uniting a couple in marriage. The Universal Life Church Monastery (www.themonastery.org) is a non-denominational organization that ordains ministers and is open to people of all religious backgrounds. After filling out an instant online ordination form, you can legally officiate a marriage anywhere in the U.S. A career built around hearing the words "I do" should be music to your romantically-inclined ears.




Source: careerbuilder